CATEGORIES
LATEST NEWS
CONTACT US
ADD: No.235,Huanchengdong Road,Huzhou,Zhejiang,China
TEL: 0086-572-2157374
FAX: 0086-572-2146389
E-mail: sales@plantextractpowder.com

> Plant Powder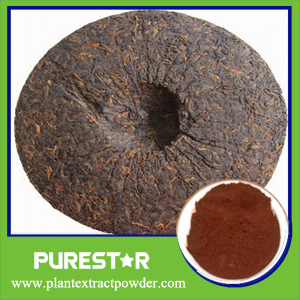 Instant Pu'er Tea Powder
Appearance: Dark Brown Powe
Total Tea:Polyphenols 36.2%
Latin Name:Camellia Sinensis
Part used:Tea Leaves
Product description: Huzhou Purestar Biochem Co.,Ltd is provide the reliable quality Instant Pu'er Tea Powder with ISO,KOSHER,HALAL.
PRODUCT INTRODUCTION
Instant Pu'er Tea Powder
Latin Name: Camellia sinensis O. Ktze.
Part of used: Leaf
Specification: Polyphenols: 25%,30%
Appearance: Brown red fine powder
Extract Method: Water
Descritpion of Instant Pu'er Tea Powder
As a special tea from China, Pu'er tea is quite popular among the consumers. It not only carries strong typical fragrance and mellow taste, but also has the function of decreasing the blood lipid.
Our pu'er tea, which is processed under advanced technology with selected fine raw materials, is suitable to be applied into pure pu'er tea drinks and other pu'er tea taste beverages. The final powder has a brown red color, and the tea liquor shows bright color and mellow taste.
Function of Instant Pu'er Tea Powder
1. Lipid-lowering, weight reduction, blood pressure, anti-atherosclerosis;
2. Anti-cancer, anti-cancer;
3. Glister teeth: Physiological activity of tea contains many ingredients, with the role of sterilization, so they can remove bad breath and protect teeth;
4. Anti-aging: Catechins in tea have anti-aging properties of including the role of anti-aging effects than other teas;
5. Beauty: Pu'er tea can regulate metabolism, promote blood circulation, regulating body, the natural balance of body function, and hence the effect of beauty.
Application of Instant Pu'er Tea Powder
1.Food ingredient: mooncake,biscuits,melon seeds,ice cream, noodles, chocolate,cakes,bread, jellies, candies,puddings,ball, roll ect.
2.Beverage ingredient: latte, canned beverage,instand solid drinks, milk, yogurt ect.