CATEGORIES
LATEST NEWS
CONTACT US
ADD: No.235,Huanchengdong Road,Huzhou,Zhejiang,China
TEL: 0086-572-2157374
FAX: 0086-572-2146389
E-mail: sales@plantextractpowder.com

> Plant Powder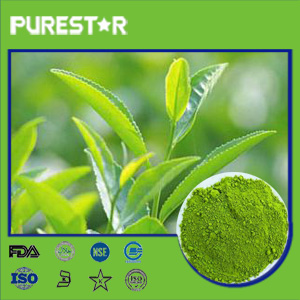 Instant Green Tea Powder
Latin Name:Camellia Sinensis
Water solubility:completely
Active ingredient:tea Polyphenol
Appearance:green powder
Product description: Huzhou Purestar Biochem Co.,Ltd is provide the reliable quality Instant Green Tea Powder with ISO,KOSHER,HALAL.
PRODUCT INTRODUCTION
Instant Green Tea Powder
Product Name:Instant Green Tea Powder
Latin Name:Camellia Sinensis
Part used:Tea Leaves
Extract Solvent:Water
Active ingredient:tea Polyphenol
Specs Available:28%
Odor:Characteristic
Appearance:green powder
Description of Instant Green Tea Powder
The real materials are finely selected from steamed green tea, pan-fired green tea and heat fired green tea, etc., which are then extracted at low temperature, followed with membrane filtration, membrane concentration and spray drying. Some high level products are freeze dried according to the requests. The final product is yellow green in color, and the tea liquor is clear and bright with fresh taste and full-bodied fragrance.
We provide general types of instant green tea powder, as well as low-caffeine green tea powder, organic green tea powder and granulated green tea, etc., which have been widely applied in pure tea drinks, ice tea beverages, milk tea, desserts, cakes and so on.
Function of Instant Green Tea Powder
1.Green tea powder will reduce blood pressure,blood sugar,blood lipids
2.Green tea powder with the function of removing radicals and anti-aging;
3.Green tea powder can enhance the immune function and prevention of colds;
4.Green tea powder will anti-radiation,anti-cancer, inhibiting the increasing of cancer cell;
5.Green tea powder used to anti-bacterium, with the function of sterilization and deodorization.
Application of Instant Green Tea Powder
1.Applied in cosmetics field,green tea extract owns the effect of anti-wrinkle and anti-Aging;
2.Applied in food field,green tea extract is used as natural antioxidant, antistaling agent, and anti-fading agents;
3. Applied in pharmaceutical field,green tea extract is used to prevent and cure cardiovascular disease, diabetes.