CATEGORIES
LATEST NEWS
CONTACT US
ADD: No.235,Huanchengdong Road,Huzhou,Zhejiang,China
TEL: 0086-572-2157374
FAX: 0086-572-2146389
E-mail: sales@plantextractpowder.com

> Plant Powder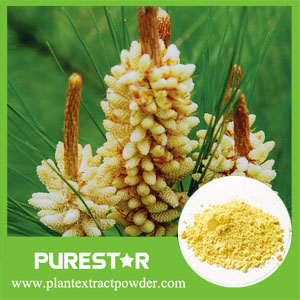 Cell Wall Craked Pine Pollen Powder/Cell Wall Broken Pine Pollen Powder
Latin Name: Pinus massoniana Lamb
Broken method: Ultra-low temperature airflow broken technology
Mesh size:100mesh,200mesh
Appearance:Light yellow Fine Powder
Product description: Huzhou Purestar Biochem Co.,Ltd is provide the reliable quality Cell Wall Craked Pine Pollen Powder,Cell Wall Broken Pine Pollen Powder with ISO,KOSHER,HALAL,HACCP,GMO FREE
PRODUCT INTRODUCTION
Cell Wall Craked Pine Pollen Powder/Cell Wall Broken Pine Pollen Powder
Source:Pine pollen powder
Latin Name: Pinus massoniana Lamb
Broken method: Ultra-low temperature airflow broken technology
Active ingredients: Protein
Disruption Rate]:98%min
Appearance:Light yellow Fine Powder
Test Method:HPLC/UV
Our certification:ISO, HACCP,KOSHER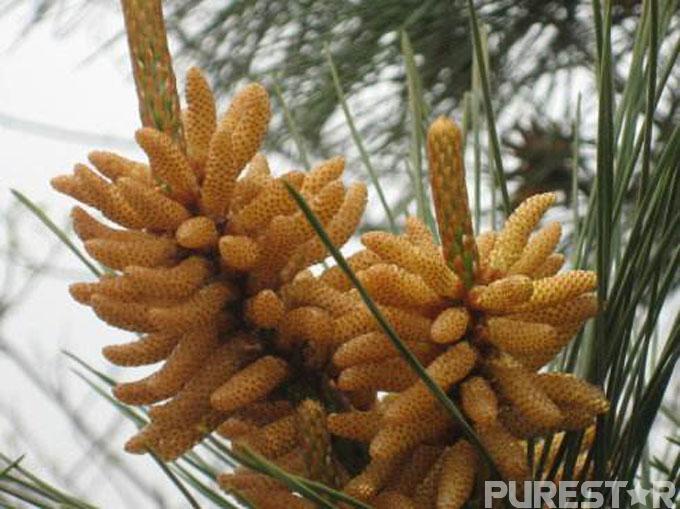 Description of Cell Wall Craked Pine Pollen Powder/Cell Wall Broken Pine Pollen Powder
Pine pollen is the sperm cell of pine flower.It contains a lot of elements of life, rich nutrients and active substances.Pine pollen has pure and stable quality with no pesticide residues and contains no animal hormones. It tastes better than any other kind of plant pollen.It crowned "the king of pollen".
Pine pollen , also known as the Songhua, yellow pine, refers pine, pine, red pine, pine and pine species Pinus sylvestris stamen pollen produced by drying. Only contained in the Tang Dynasty "Newly Revised Materia Medica", as bright yellow or yellowish powder, sweet flat, non-toxic, is a traditional Chinese food, some traditional Chinese food, such as pine Hua Gao, Songhua dumpling, Songhua wine and other still add pine pollen. There are some medicinal value, mainly for skin-related diseases have a certain effect, was income of a Chinese Pharmacopoeia 2000 edition. Pine Pinus pollen as genetic material of plants containing protein nutrients, trace elements, fatty acids and flavonoids, and biologically active substances.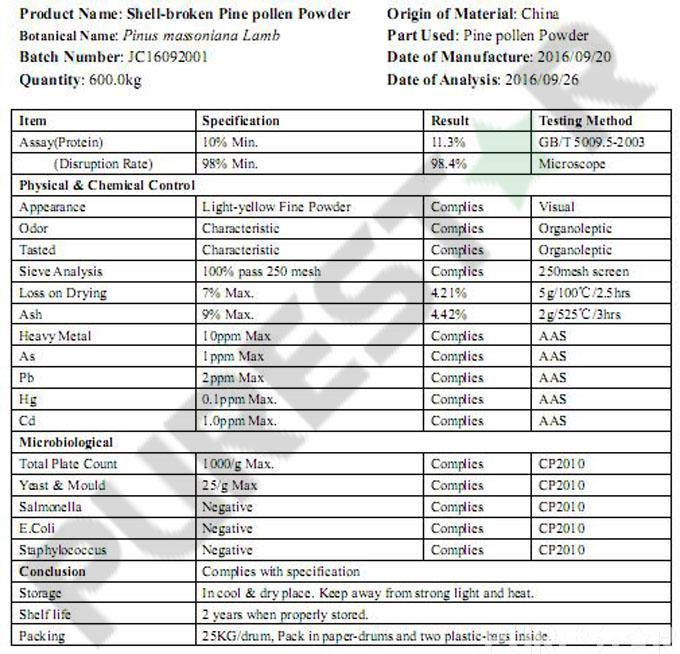 Why the pine pollen powder need to broke shell ?
Like chorella, pine pollen powder has a hard shell on it. If this is not broken then the nutrition that is found in pine pollen will not be readily available to your body. Our pine pollen is processed through a low temperature and high speed airflow sporoderm-breaking technology, leaving 99% of the pine pollen with the cell walls broken, with sizes of around 1 to 2 micrograms and thus available to your body.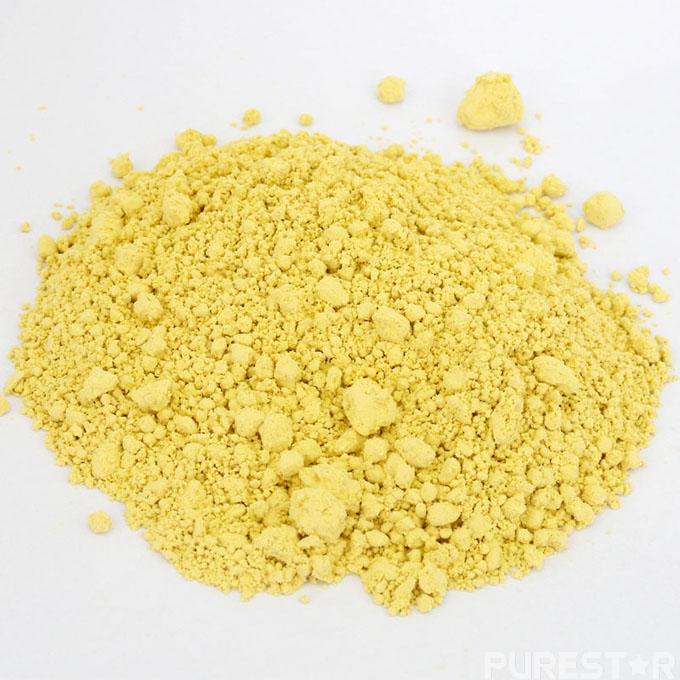 Process of Cell Wall Craked Pine Pollen Powder/Cell Wall Broken Pine Pollen Powder
Pine Pollen Powder--collected --Remove the impurities --pass 300 mesh--break the wall by air--packed -- Detection of physicochemical index -- put in storage
Advantage of our production
1.Certified raw materials:100% Pine Pollen Powder ;Contains no pollution and zoohormone; makes pure powder.
2.Security of technology: The wall is broken by by air at low temperature and the rate reaches up to 99%; high content;moisture absorption easily
3.Security of effective constituent:Flavone , protein and other nutrition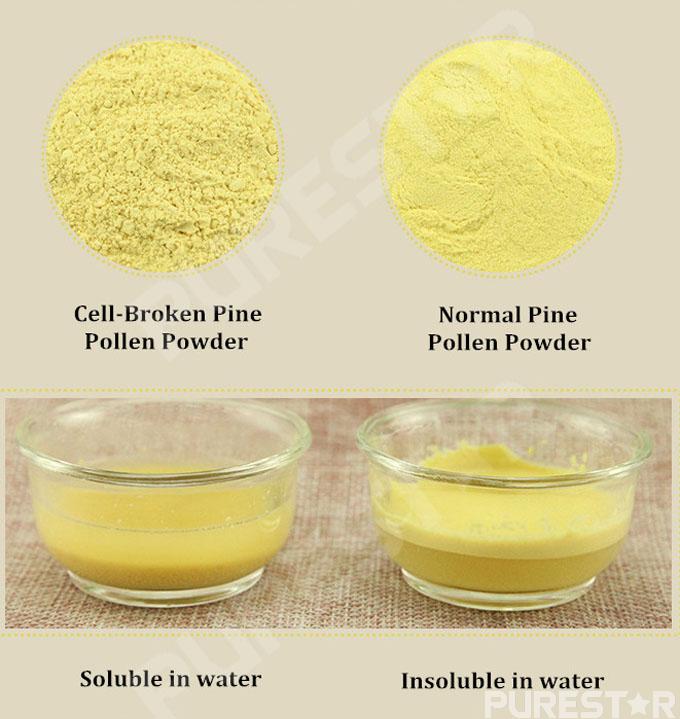 Function of Cell Wall Craked Pine Pollen Powder/Cell Wall Broken Pine Pollen Powder
1.Improve immunity;
2.Eliminate fatigue, improve sexual function;
3.protect the heart, prevent vascular system diseases;
4.prevent diabetes prevention prostatosis;
5.improve digestion, increase appetite, overcome constipation;
6.relieve menopause symptoms;
7.improve memory;
8.promote children's healthy growth;
9.beauty and skin care, anti-aging.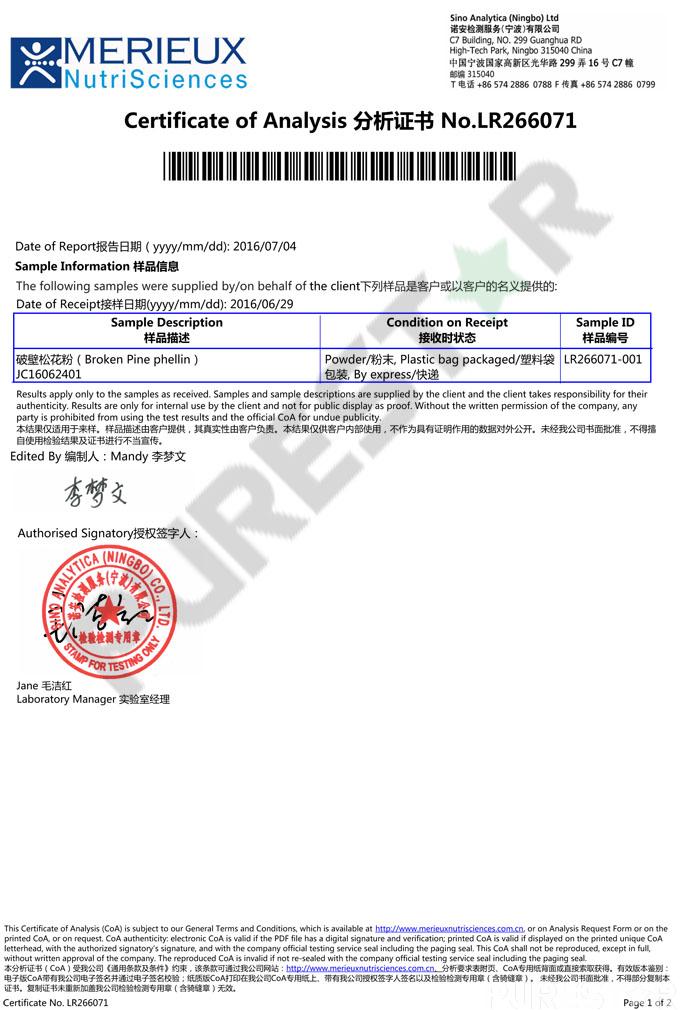 Application of Cell Wall Craked Pine Pollen Powder/Cell Wall Broken Pine Pollen Powder
1.Cell Wall Craked Pine Pollen Powder can be made into capsules, troche and granule as healthy food;
2.Cell Wall Craked Pine Pollen Powder has been widely added into the beverage and the wine, cosmetics as the functional content.