CATEGORIES
LATEST NEWS
CONTACT US
ADD: No.235,Huanchengdong Road,Huzhou,Zhejiang,China
TEL: 0086-572-2157374
FAX: 0086-572-2146389
E-mail: sales@plantextractpowder.com

> Plant Powder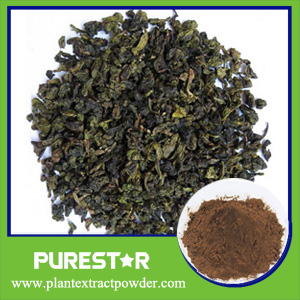 Instant Oolong Tea Powder
Appearance:Dark Brown Power
Content: polyphenols
Part used:Tea Leaves
Latin Name:Camellia Sinensis
Product description: Huzhou Purestar Biochem Co.,Ltd is provide the reliable quality Instant Oolong Tea Powder with ISO,KOSHER,HALAL.
PRODUCT INTRODUCTION
Instant Oolong Tea Powder
Appearance:Dark Brown Power
Latin Name:Camellia Sinensis
Part used:Tea Leaves
Extract Solvent:Water
Content: polyphenols
Total Tea Polyphenols:32.3%
Description of Instant Oolong Tea Powder
Oolong tea is a effective in helping to keep fit, and becomes quite popular recently. We've selected fine oolong tea to be produced with modern technology. The powder shows golden and beige color, and the tea liquor presents bright golden color, fresh pure taste and well-preserved original fragrance.
We provides general types of instant oolong tea powder, instant tieh kuan yin powder, instant narcissus oolong tea powder, etc.
Function of Instant Oolong Tea Powder
1. To support energy levels, support lipolysis and provide antioxidant activity;
2. Increases energy expenditure and fat oxidation3. Prevented the obesity and fatty liver induced
by a high-fat diet in mice;
3. Weight loss in women;
4. Promoted energy expenditure and fat oxidation in human subjects.
Application of Instant Oolong Tea Powder
1. Applied in food field;
2. Applied in pharmaceutical field;
3. Applied in cosmetics field.