CATEGORIES
LATEST NEWS
CONTACT US
ADD: No.235,Huanchengdong Road,Huzhou,Zhejiang,China
TEL: 0086-572-2157374
FAX: 0086-572-2146389
E-mail: sales@plantextractpowder.com

> Standard Plant Extract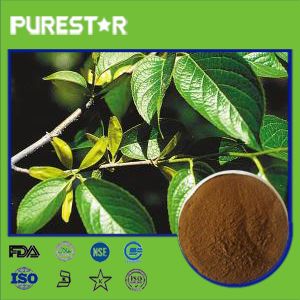 Eucommia Ulmoides Extract,Chlorogenic Acid
Appearance:Brown Powder to white powder
Active Ingredient :Chlorogenic Acid
Specification: 5%-99 Chlorogenic Acid HPLC
CAS No.: 327-97-9
Product description: Huzhou Purestar Biochem Co.,Ltd is provide the reliable quality Eucommia Ulmoides Extract,Chlorogenic Acid with ISO,KOSHER,HALAL.
PRODUCT INTRODUCTION
Eucommia Ulmoides Extract,Chlorogenic Acid
Product Name : Eucommia Bark/Leaf Extract
Latin Name: Eucommia ulmoides Oliv
Original Plant : Bark,leaf
Bioactive ingredient : Chlorogenic acid ,aucubin,pinoresinol diglycoside ,ligninoglycosides
Specification : Chlorogenic Acid 10% 20% 30% 98%
Appearance : Yellow brown powder to white powder
Test Method : HPLC / UV-VIS
CAS No.: 327-97-9
Molecular Formula: C16H18O9
Molecular Weight: 354.31
Description of Eucommia Ulmoides Extract,Chlorogenic Acid
Eucommia ulmoides extract is an herb used as a tea in China and by traditional Chinese doctors to treat high blood pressure. People with high blood pressure in Russia were given eucommia with a reduction in blood pressure and without side effects.
LSU Board of Regents supported this research to develop an herbal product that will maintain a healthy blood pressure. Dr. Liu with the LSU Ag Center extracted and standardized the eucommia. Dr. Baker with the LSU Vet School conducted safety studies in rats finding that eucommia was without side effects at 7 times the doses to be used in this study and there was a reduction in blood pressure in the rats. Dr. Greenway demonstrated that eucommia extract is a beta-adrenergic blocker, a mechanism used in approved blood pressure medications like propanolol.
In traditional Chinese medicine, Eucommia ulmoides extract has sweet, warm properties. It is associated with the liver and kidneys, and is considered the primary herb used to increase yang functions in the body. Eucommia bark strengthens the bones and muscles, heals injured and weakened tissues, and can treat lower back and leg pain, stiffness and arthritis.
Function of Eucommia Ulmoides Extract,Chlorogenic Acid
1. Chlorogenic acid can anti-virus,anti-biosis, anti-inflammatory, detoxify
2. Chlorogenic acid supplement can depressurization
3. Pure chlorogenic acid can anti-tumor
4. Invigorating the kidney, improving immunity
5. Anti-oxidation,anti-aging,anti-resistant for muscle and bones
6.Plays a role in the prevention of hyperlipidemia,
coronary heart disease, and diabetes caused by thrombosis.
7.Has a role in weight loss,anti-cancer,anti-aging,anti-depressants,and prevention of senile dementia.
8.Necessary for the protection of eyesight,intelligence development,maintaining normal growth and development of mankind and normality of the skin.
Application of Eucommia Ulmoides Extract,Chlorogenic Acid
1.In Food field, The herb eucommia is used as food additives to make herbal tea, soups, syrup and beverages.
2.In Pharmaceutical Field. The herb eucommia is used for Chinese herbal medicine.
3.Applied in beauty products, The herb eucommia can be made into medicinal tea.
4.The herb is also used for the eucommia extract.