CATEGORIES
LATEST NEWS
CONTACT US
ADD: No.235,Huanchengdong Road,Huzhou,Zhejiang,China
TEL: 0086-572-2157374
FAX: 0086-572-2146389
E-mail: sales@plantextractpowder.com

> Ratio Extract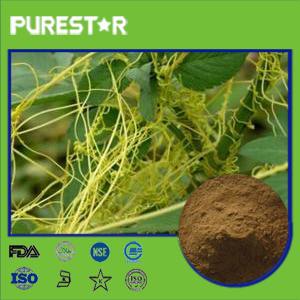 Chinese Dodder Seed Extract
Botanical Name: Semen cuscutae
Specification:5:1 10:1 20:1
Appearance: brown- Yellow fine power
Part Used: Seed
Product description: Huzhou Purestar Biochem Co.,Ltd is provide the reliable quality Chinese Dodder Seed Extract with ISO,KOSHER,HALAL.
PRODUCT INTRODUCTION
Chinese Dodder Seed Extract
Product Name: Semen Cuscutae Extract , Dodder Seed extract, chinese dodder seed extract, dodder extract
Botanical Name: Semen cuscutae
Part Used: Seed
Specification: 5:1 10:1 20:1
Appearance: brown- Yellow fine power
Test Method: TLC
Description of Chinese Dodder Seed Extract
What is Dodder Seed Extract?
Cuscuta (Dodder) is a genus of about 100-170 species of yellow, orange or red (rarely green) parasitic plants. Formerly treated as the only genus in the famil y Cuscutaceae, recent genetic research by the Angiosperm Phylogeny Group has shown that it is correctly placed in the morning glory family, Convolvulaceae. Cuscuta is a leafless plant with branching stems ranging in thickness from thread-like filaments to heavy cords. The seeds germinate like other seeds.
What are Health Benefits of Dodder Seed Extract?
In Western herbalism, cuscuta was traditionally used to treat liver, spleen, and gallbladder disorders such as jaundice; and to support liver function. Other traditional Western claims for cuscuta are that it is a mild diuretic, and that it can be used to treat sciatica and scurvy. Extracts of the herb have a very bitter taste. In traditional Chinese medicine, the seeds of cuscuta, called tu si zi, have been used for thousands of years. According to traditional Chinese healers, cuscuta seeds have a neutral nature and a pungent, sweet taste. They are associated with the liver and kidneys and are used in formulas that help both yin and yang deficiencies, depending on the patient's condition and the other herbs in the formula. Cuscuta is also used in the Indian system of Ayurvedic healing to treat jaundice, muscle pain, coughs, and problems with urination.Cuscuta is one of nine herbs included in the manufacture of Equiguard, a Chinese herbal medicine recommended for kidney and prostate disorders.
Function of Chinese Dodder Seed Extract
1.Dodder seed is a traditional Chinese herb with some powerful effects that are just right for the hot male sexual enhancement arena.
2.In Traditional Chinese Medicine, Dodder seed is known as a kidney yang tonic and is widely used to remedy sexual problems like impotence, nocturnal emission, premature ejaculation, and low sperm count that arise from kidney yang deficiency.
3.In general, it nourishes the kidney organ in the body, boosting energy levels.
Application of Chinese Dodder Seed Extract
1.Dodder seed extract applied as health care products, beverages and food additives.
2.Dodder seed extract applied in pharmaceutical to nourish liver and kidney,eyesight.