CATEGORIES
LATEST NEWS
CONTACT US
ADD: No.235,Huanchengdong Road,Huzhou,Zhejiang,China
TEL: 0086-572-2157374
FAX: 0086-572-2146389
E-mail: sales@plantextractpowder.com

> Standard Plant Extract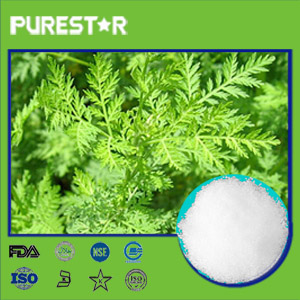 Sweet Wormwood Extract/Artemisia Annua Extract,Artemisinine
CAS NO.:63968-64-9
Appearance:White Crystal Powder
Part Used:Leaf
Specification: 99%
Product description: Huzhou Purestar Biochem Co.,Ltd is provide the reliable quality Sweet Wormwood Extract,Artemisia Annua Extract,Artemisinine with ISO,KOSHER,HALAL.
PRODUCT INTRODUCTION
Sweet Wormwood Extract,Artemisia Annua Extract,Artemisinine
Latin Name: Artemisia annua Linn
Active ingredient:Artemisinine
CAS No.:63968-64-9
Molecular formula:C15H22O5
molecular weight :282.3322
Part Used: Leaf
Specification: 99%
Appearance: White or colorless crystal
Extraction Type: Solvent Extraction
Grade: Pharmaceutical and Food
Description of Sweet Wormwood Extract,Artemisia Annua Extract,Artemisinine
What is Sweet Wormwood Extract?
Sweet wormwood herb has been used in traditional Chinese medicine and noted for its compounds that can effectively treat malaria. Sweet Annie, also called sweet wormwood, is sometimes referred to by its Chinese name qing hao.
Wormwood Extract and some of the related compounds derived directly from the sweet wormwood herb, are sometimes referred to as quinghaosu. These compounds, and their synthetic derivatives, have been described in The New York Times as "trikingly effective against malaria".
It has been used for centuries to kill parasites, particularly worms and flukes. It has also proven itself as a safe and effective treatment for malaria in over two million patients. It is also used as pharmaceutical intermediate, pharmaceutical raw material, plant extract, herb extract.
Now studies are also showing that wormwood extract is effective against a wide variety of cancers as shown in a series of successful experiments. It is most effective on leukemia and colon cancer. Intermediate activities were also shown against melanoma, breast, ovarian, prostate, CNS and renal cancer.
What is Artemisinine?
Artemisinin, also known as Qinghaosu and its derivatives are a group of drugs that possess the most rapid action of all current drugs against Plasmodium falciparum malaria. Treatments containing an artemisinin derivative (artemisinin-combination therapies, ACTs) are now standard treatment worldwide for P. falciparum malaria. Artemisinin is isolated from the plant Artemisia annua, sweet wormwood, a herb employed in Chinese traditional medicine.
It can now also be produced using genetically engineered yeast. Chemically, artemisinin is a sesquiterpene lactone containing an unusual peroxide bridge. This peroxide is believed to be responsible for the drug's mechanism of action. Few other natural compounds with such a peroxide bridge are known.
Function of Sweet Wormwood Extract,Artemisia Annua Extract,Artemisinine
1.Wormwood Extract has effect on antibacterial, artemisinin has anti-influenza virus effect.
2.Wormwood Extract is used for anti-parasite, artemisinin play the role of anti-schistosomiasis and leptospirosis.
3.Wormwood Extract can be used for antimalarial, artemisinin has killing effect on the parasite within red blood cells, it can inhibit the parasite's maturity quickly.
Application of Sweet Wormwood Extract,Artemisia Annua Extract,Artemisinine
1.Applied in health product field, artemisinin can be made into capsules or oral liquid to regulate the immune system.
2.Applied in food field, in summer it will be serve as cool drinks which is good for prevention and treatment of heat stroke.
3.Applied in pharmaceutical field, artemisinin has treatment effects on vivax malaria, plasmodium falciparum and chloroquine.