CATEGORIES
LATEST NEWS
CONTACT US
ADD: No.235,Huanchengdong Road,Huzhou,Zhejiang,China
TEL: 0086-572-2157374
FAX: 0086-572-2146389
E-mail: sales@plantextractpowder.com

> Natral Colors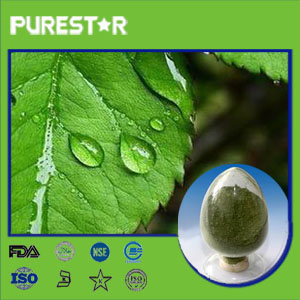 Sodium Iron Chlorophyllin
Appearance:Dark green powder
Water solubility:Easily soluble in water
Part: Green leaves of mulberry
Effectiveness:health care
Product description: Huzhou Purestar Biochem Co.,Ltd is provide the reliable quality Sodium Iron Chlorophyllin with ISO,KOSHER,HALAL.
PRODUCT INTRODUCTION
Sodium Iron Chlorophyllin
Dark green powder or crystal
Easily soluble in water, slightly soluble in alcohol and chloroform
Insoluble in ethyl ether
Water solution: yellowgreen, without sediment
Description of Sodium Iron Chlorophyllin
In natural plants as raw material, through the refined processing and purification of natural chlorophyll derivatives.
Sodium Iron Chlorophyllin is a green crystal or powder, soluble in water, slightly soluble in ethanol, chloroform, insoluble in ether, aqueous solution is transparent, no precipitation.
Main Chlorophyll Serial Products
2.Sodium Iron Chlorophyllin
3.Sodium Magnesium Chlorophyllin
4.OIL-SOLUBLE CHLOROPHYLL (COPPER CHLOROPHYLL)
5.CHLOROPHYLL PASTE
Function of Sodium Iron Chlorophyllin
1.Hematopoietic function: chlorophyll is rich in microelement iron, is a natural hematopoietic raw material.If no chlorophyll, blood cannot be manufactured everfount, the body will produce anaemia.
2.Provide vitamins: chlorophyll contains a lot of vitamin C and inorganic salt, which are indispensable material to human vital movement, and also can maintain alkaline body fluids, is conducive to health.
3.Maintain the enzyme activity: enzyme is the catalyst of chemical changes in the human body, is responsible for the synthesis and decomposition of various chemical substances. If the enzyme deficiency, some chemical substances are not fully decomposition and composition, will form the peroxide substances --free radicals, which damage the body's normal cells, lead to diseases. The chlorophyll can maintain the activity of enzymes, which play a strong role in the anti-oxidation, resist free radical, delay aging.
4.Detoxification: chlorophyll is a good natural antidote, it can neutralize toxin which be accumulated in the body come from the preservatives, additives,and spices of junk food, and excrete into in vitro plays the role of blood purification.
5.Anti-inflammatory effect: chlorophyll can prevent infection, prevent inflammation spread, has a bactericidal anti-inflammatory role. For many inflammation especially as skin inflammation, trauma, enteritis and gastric ulcer which be long-term treatment but not got well , and so on have an unexpected effect.
6.Deodorization effect: another important function of chlorophyll is deodorization.The reason is that it can inhibit sulfide which come from metabolic process. If people drink appropriate amount green juice every day, it can make oral, nasal cavity, the body exudes a breath, sweat, urine, feces smell smell disappeared.
7.Enhanced resistance and keep fit: chlorophyll can enhance the body's endurance; has the function of anti-aging, anti-cancer, prevention of gene mutation.It is the guardian of human health.
8.Rich cellulose: because the fiber together with chlorophyll in the leaves of the plant, the intake of chlorophyll is equal to the intake of cellulose.
Application of Sodium Iron Chlorophyllin
As a pharmaceutical material, it can treat iron deficiency anemia.
It can also be used as an additive in the foodstuff industry.