CATEGORIES
LATEST NEWS
CONTACT US
ADD: No.235,Huanchengdong Road,Huzhou,Zhejiang,China
TEL: 0086-572-2157374
FAX: 0086-572-2146389
E-mail: sales@plantextractpowder.com

> Mushroom Extract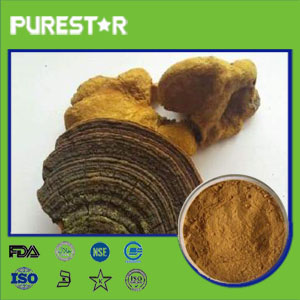 Phellinus Igniarius Extract
Latin Names:Phellinus Igniarius L.
Active Ingredient:Polysaccharides,Beta Glucan
Appearance:Brown fine powder
Specification:Polysaccharide 10%,20%,30%;Beta Glucan10-30%
Product description: Huzhou Purestar Biochem Co.,Ltd is provide the reliable quality Phellinus Igniarius Extract with ISO,KOSHER,HALAL.
PRODUCT INTRODUCTION
Phellinus Igniarius Extract
Product name: Phellinus Linteus Extract
Latin Names:Phellinus Igniarius L.
Synonyms:Phellinus Fungus Extract
Active Ingredient:Polysaccharides,Beta Glucan
Appearance:Brown fine powder
Specification:Polysaccharide 10%,20%,30%;Beta Glucan10-30%
Particle Size:100% Pass 80 Mesh
Extract Method: Water/Ethanol
Test Method: HPLC/UV
Description of Phellinus Igniarius Extract
What's Phellinus Linteus Extract
Sang-Hwang Mushroom Extract, a medicinal fungi from Hymenochaetaceae family, as "Song gen" in China, "Sang-hwang" in Korea and "Mesimakobu" in Japan, are well known in the chronicles of the Oriental medicine.
Sang-Hwang Mushroom Extract (a kind of medicinal mushroom) have been used for chinese medicine, traditionally. The functional compounds in phellinus linteus have been highlighted recently, as these substances are able to lower cholesterolemia, modulate immune system, and inhibit tumoral growth.
Scientists found extracts of the medicinal fungi called Phellinus linteus boosts the effects of a particular anti cancer drug.
Researchers based at the Boston University School of Medicine in the USA studied extracts of Phellinus linteus. They tested its effects on prostate cancer cells and found that when it was combined with the common chemotherapy treatment doxorubicin it increased the number of prostate cancer cells killed by the drug.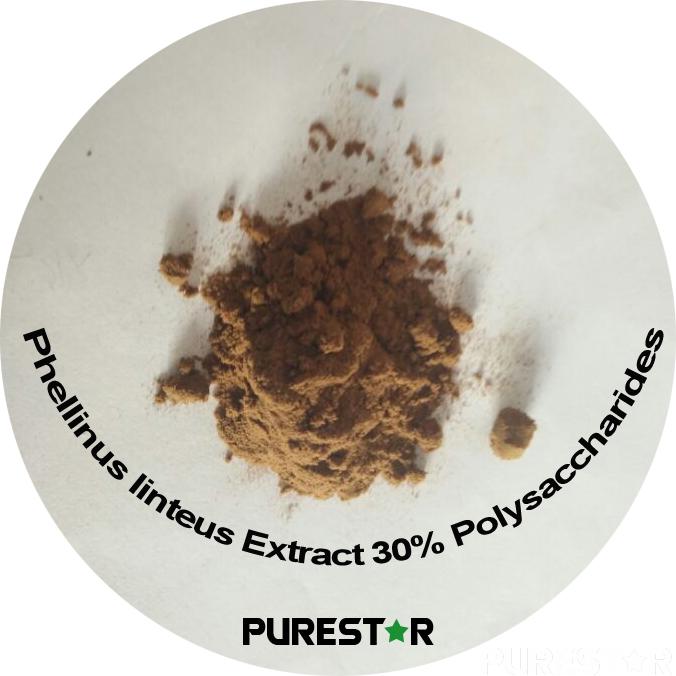 Phellinus Igniarius Extract Phellinus Iinteus is a kind of mushroom with magical medical properties. In anti-cancer aspect, its extracts have a very good effect in inhibiting the growth of tumors. Experiments confirmed that water extract of Phellinus igniarius can induce cancer cells enter the cell death process. In addition, Phellinus igniarius can also strongly inhibit the transferring of cancer cells and the cancer recurrence after surgery. Phellinus igniarius polysaccharide can significantly improve the patient's immune level, resist radiotherapy and chemotherapy side effects, and work with radiotherapy and chemotherapy to kill cancer cells, enhancing effect. Phellinus igniarius extracts are non-toxic and harmless to humans, even using it in large doses for a long term there is no toxic side effect. Besides the anti-cancer effect of P. linteus and igniarius mushroom, researcher also found that polysaccharide could exterminate cancer cells and foreign substances that intruded from the outside by revitalizing the functions of various organs that are weakened due to the radio logy/chemical therapy during the treatment, minimizing the side effects such as vomiting, weight reduction, mistrial and fallen hair, and enhancing the immune function that is weakened the body by the surgical operation such as the removal of cancer growth.
Function of Phellinus Igniarius Extract
1. Phellinus linteus polysaccharides inhibit proliferation of cancer cells and cancer cell metastasis.
2. Phellinus linteus polysaccharides reduce the side effect of anticancer agent.
3. Phellinus linteus polysaccharides ease pain, loss of appetite, weight loss and fatigue from cancer symptoms, improve quality of life.
4. Phellinus linteus polysaccharides can prevent cancer, avoid the recurrence of cancer.
5. Phellinus linteus polysaccharides can prevent and improve various diseases which caused by
immunity decline.
6. Phellinus linteus polysaccharides has a good effect for protect liver, can be used for the prevention and treatment of liver cirrhosis, liver ascites.
Application of Phellinus Igniarius Extract
1. Healthy Products(capsules or tablets).
2. Pharmaceuticals.
3. Nutrition Supplements.