CATEGORIES
LATEST NEWS
CONTACT US
ADD: No.235,Huanchengdong Road,Huzhou,Zhejiang,China
TEL: 0086-572-2157374
FAX: 0086-572-2146389
E-mail: sales@plantextractpowder.com

> Standard Plant Extract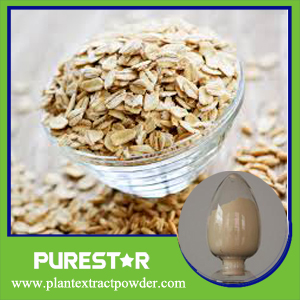 Oat Extract,Oat Beta Glucan
Appearance: Brown Yellow powder
Active Ingredients: Beta-Glucan
CAS NO.: 9012-72-0
Solubility:100% water soluble
Product description: Huzhou Purestar Biochem Co.,Ltd is provide the reliable quality Oat Extract,Oat Beta Glucan with ISO
PRODUCT INTRODUCTION
Oat Extract,Oat Beta Glucan
Other Name:Oat β-Glucan
English Name: Oat Extract
Latin Name: Avena Sativa L.
Specification: Beta-Glucan 10%~90%
Extract Part: Seed;whole herb
Solubility:water soluble
Appearance: Brown Yellow powder with characteristic odor
Active Ingredients: Oat Beta-Glucan; Oat 1,3/1,4 D-Beta Glucan
CAS NO.: 9012-72-0
Molecular Formula: (C18H30O14)n
Molecular Weight: 470.42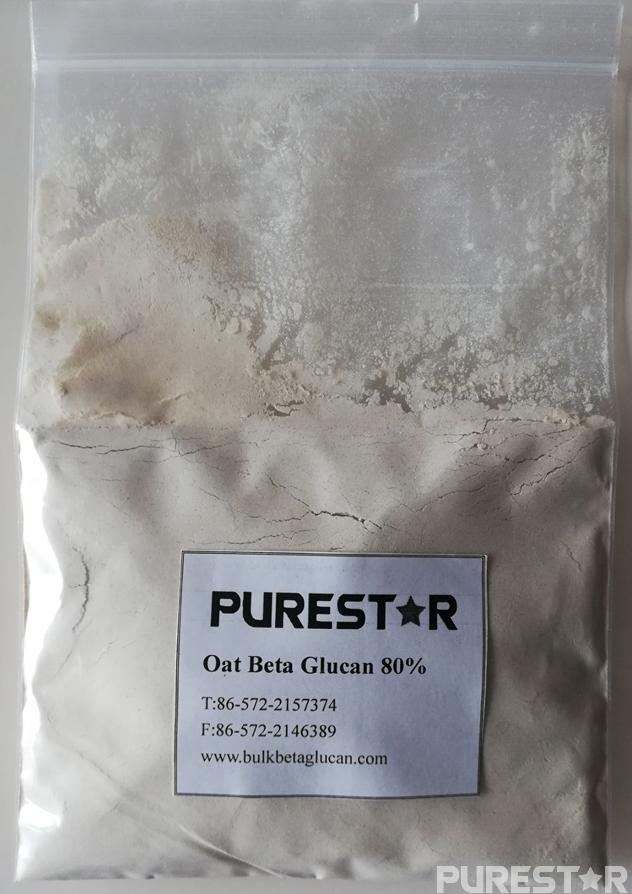 Description of Oat Extract,Oat Beta Glucan
What is Oat Beta Glucan?
Beta Glucan is polysaccharide of D-glucose monomers linked by β-glycosidic bonds. Beta Glucan is a diverse group of molecules that can vary with respect to molecular mass, solubility, viscosity, and three-dimensional configuration. They occur most commonly as cellulose in plants, the bran of cereal grains, the cell wall of baker's yeast, certain fungi, mushrooms and bacteria. Some forms of beta glucans are useful in human nutrition as texturing agents and as soluble fiber supplements, but can be problematic in the process of brewing.
Oat is a rich source of the water-soluble fibre (1,3/1,4) Beta Glucan, and its effects on health have been extensively studied the last 30 years. Oat Beta Glucan Powder are the only dietary fiber being recognized by the European Food Safety Authority (EFSA) to be able to reduce a disease risk. Oat Beta Glucan Powder can be highly concentrated in different types of oat brans.
Oat β-Glucan is a soluble dietary fiber in Oats, it has obtained the health claims of FDA and EFSA.
The NHFPC has also approved it as a new food raw material in December 19th, 2014.
Non-GMO and GRAS
Possible FDA & EFSA "Heart Healthy" Claim
100% Natural Product
Low Fat, Protein and Calorie
High Soluble Dietary Fiber
High purity, Molecular weight and Bio-activity
Excellence processability: Neutral taste; Non-hygroscopic;
Thermostability; Preferred viscosity,solubility and flowability.
Function of
Oat Extract,Oat Beta Glucan
1.High cholesterol is a risk factor in the development of coronary heart disease. Oat β-Glucan has been proven to lower the cholesterol for a healthy heart because it can increase viscosity in the intestines. So it can prevent the fat, cholesterol and bile acid being absorbed by the digestive tract.
2.Oat β-Glucan has been proven to reduce glycemic response reduced sugar level.
3.Oat β-Glucan is a viscous soluble dietary fiber that can promote satiety because of its high viscosity and water binding capacity. Because Oat β –Glucan is a low calorie food, it can be added to the formula foods for use in very low energy diets for weight reduction.
4.Oat β-Glucan can improve bowel function and promote digestive health.
Application of Oat Extract,Oat Beta Glucan
1.Applied in food field, to be used to prevent atherosclerosis, hypertension and coronary heart disease.
2.Applied in health product field, to be used as raw material added into health product.
3.Applied in cosmetic field, to be used to hold skin full water (it has excellent moisture effect).