CATEGORIES
LATEST NEWS
CONTACT US
ADD: No.235,Huanchengdong Road,Huzhou,Zhejiang,China
TEL: 0086-572-2157374
FAX: 0086-572-2146389
E-mail: sales@plantextractpowder.com

> Ratio Extract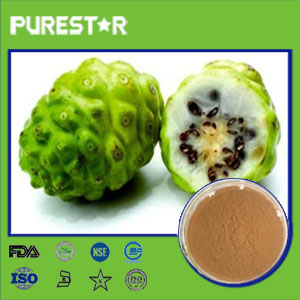 Noni Extract
Appearance: Brown fine powder
Botanical Name: Morinda Citrifolia
Plant Part Used: Fruit
Specification:4:1,10:1,20:1
Product description: Huzhou Purestar Biochem Co.,Ltd is provide the reliable quality Noni Extract with ISO,KOSHER,HALAL.
PRODUCT INTRODUCTION
Noni Extract
Product Name: Noni Extract Powder,Noni Fruit Extract powder
Botanical Name: Morinda Citrifolia
Plant Part Used: Fruit
Specification:4:1,10:1,20:1
Active Ingredient: Polysaccharide
Specification: Polysaccharide 9-20% by UV
Appearance: Brown fine powder
Description of Noni Extract
Noni fruit is an increasingly popular health food. Traditionally, noni fruit was used by polynesians to combat fatigue. Clinical studies have revealed that noni consumption improves quality of life scores related to physical functioning and energy levels.
To further evaluate the ergogenic (antifatigue and endurance promoting) potential of noni, aged mice were pretreated orally with increasing doses (10, 20 and 40 mL/kg body weight) of Tahitian Noni and then compared with young and aged controls in the forced swim test and rotarod test. The average times of all tahitian noni dose groups were significantly longer than the aged controls in both the swim test (36% to 45%) and the rotarod test (59% to 128%), and were similar to those of the young controls. This demonstrates not only an improvement in endurance but also in balance and flexibility. These results confirm the noni is use dto combat fatigue, improve endurance and increase overall physical performance.
Noni is best and most nutritionally sound when it is pure and organic. A powdered form of the pulp is made in one of two ways. It can be freeze-dried, which generally uses the whole fruit, or the raw pulp can be dehydrated. By whichever means the dried fruit is produced, it is then ground into a powder. The powder can be purchased in bulk by weight or packed into capsules and taken as a supplement. The powder is not water-soluble, but many add it to fruit and yogurt for a nutrient-dense power smoothie. There are also juices available which are made from a concentrated extract of the pulp.
Function of Noni Extract
1.Lowering high blood pressure is an important role of noni extract;
2.Noni extract can enhance cellular health and body's immune function;
3.Noni extract act as anti-inflammatory and antihistamine.Reduce arthritis symptoms;
4.Anti-tumor activity, noni extract owning the strong inhibitory effect on cancer cell;
5.Noni extract has antibacterial properties that can protect against digestive and heart damage;
6.Noni extract has anti-fatigue effect, enable glycogen content has a significant increase and increase the body's exercise capacity;
7.Noni extract has function of increasing the phagocytic index of macrophage and stimulating antibody formation, thus to enhance body's immune function.
Application of Noni Extract
1.Applied in food field, noni juice is highly welcomed, children and oldie also may drink
2.Applied in healthy product field, noni juice can be made into capsule to adjust physiological function
3.Applied in cosmetic field, noni juice used to moisturizing and skin whitening