CATEGORIES
LATEST NEWS
CONTACT US
ADD: No.235,Huanchengdong Road,Huzhou,Zhejiang,China
TEL: 0086-572-2157374
FAX: 0086-572-2146389
E-mail: sales@plantextractpowder.com

> Standard Plant Extract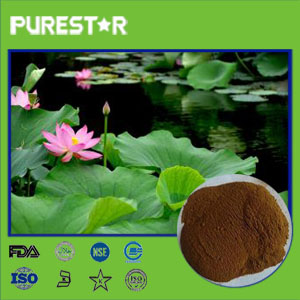 Lotus Leaf Extract,Nuciferine
Appearance:Brown yellow powder
CAS NO.: 475-83-2
Active ingredient: Nuciferine, Flavonoids, citric acid, oxalate
Specification : Nuciferine 0.35% 1% 2% HPLC
Product description: Huzhou Purestar Biochem Co.,Ltd is provide the reliable quality Lotus Leaf Extract,Nuciferine with ISO,KOSHER,HALAL.
PRODUCT INTRODUCTION
Lotus Leaf Extract,Nuciferine
Latin Name: Nelumbo nucifera Gaertn
Product Name:Nuciferine Lotus Leaf Extract
Appearance:Brown yellow powder
Used Part: Leaf
Active ingredient: Nuciferine, Flavonoids, citric acid, oxalate
Specification : Nuciferine 0.35% 1% 2% HPLC
CAS NO.: 475-83-2
Molecular Weight: 295.3755
Molecular Formula: C19H21NO2
Description of Lotus Leaf Extract,Nuciferine
Nelumbo is a genus of aquatic plants with large, showy flowers. Members are commonly called lotus, though "lotus" is a name also applied to various other plants and plant groups, including the unrelated genus Lotus. Members outwardly resemble those in the family Nymphaeaceae (water lilies), but Nelumbo is actually very distant to Nymphaeaceae. "Nelumbo" is derived from the Sinhalese word Nelum. There are only two known living species in the genus. The sacred lotus (N. nucifera) is native to Asia, and is the better known of the two. It is commonly cultivated, and also used in Chinese medicine and cooking. This species is the national flower of India and Vietnam. The American lotus (N. lutea) is native to North America and the Caribbean. Horticultural hybrids have been produced between these two geographically separated species. A third, extinct species, N. aureavallis, is known from Eocene fossils from North Dakota, United States.
Pharmacological studies have shown that, the leaves of lotus have a diuretic laxative, pass intestinal drugs, lipid-lowering oil, Qingshu antipyretic effects, lotus leaf can significantly reduce serum cholesterol levels of glycerol and glycerol, lotus leaf extract plays a role in regulating blood lipid health. Deliberately dieting to lose weight without using lotus leaf, the human body without any side effects.Chinese medicine believe that the bitter taste of lotus leaves, flat, in the liver, spleen, stomach, the Heart Sutra.
Function of Lotus Leaf Extract,Nuciferine
1.Nuciferine lotus leaf extract has the function of weight control.
2.Nuciferine lotus leaf extract can adjust blood lipids, codeine and expectorant.
3.Nuciferine lotus leaf extract is used as anticoagulant and antidote in medicine.
4.Nuciferine lotus leaf extract has strong effect on lowering the blood pressure, and nuciferine lotus leaf extract has become popular to lower blood cholesterol ,treat fatty liver and promote blood circulation.
Application of Lotus Leaf Extract,Nuciferine
1.Applied in food field, it's used as food additive with the function of lengthening life.
2.Applied in pharmaceutical field, it is frequently used as medicine supplement or OTCs
ingredients and owns good efficacy for treatment of cancer and cardio-cerebrovascular disease.
3.Applied in cosmetics, it can delay aging and prevent UV radiation.