CATEGORIES
LATEST NEWS
CONTACT US
ADD: No.235,Huanchengdong Road,Huzhou,Zhejiang,China
TEL: 0086-572-2157374
FAX: 0086-572-2146389
E-mail: sales@plantextractpowder.com

> Standard Plant Extract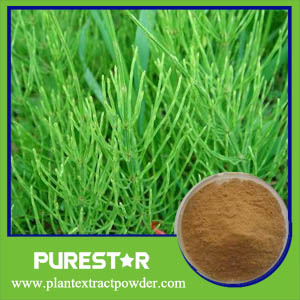 Horsetail Extract
Appearance:Brown-yellow fine powder
Active Ingredien: Silica acid
Specification:2%, 7%, 10:1
Efficacy: Antarthritic,Strengthen the kidney function
Product description: Huzhou Purestar Biochem Co.,Ltd is provide the reliable quality Horsetail Extract with ISO,KOSHER,HALAL.
PRODUCT INTRODUCTION
Horsetail Extract
Latin Name:Equisetum arvense L
Part of used:Leaf
Test Method:UV
Active ingredient:Silica acid
Specs Available:2%,7%, 10:1
Appearance:Yellow to brown fine powder
CAS NO.:71011-23-9
Molecular Weight:78.10
Molecular Formula:H2O3Si
Description of
Horsetail Extract
Horsetail is commonly known as bottlebrush, mare's tail, scouring rush and shave grass, and its scientific name is Equisetum arvense. According to Herbs 2000, horsetail is related to plants that were around during the dinosaur era and are believed to have been as tall as 40 feet or more. In the Middle Ages, horsetail clumps were used as scouring pads because of their silicon content.
Clinical European studies have shown that horsetail extract helps mend broken and fractured bones quicker, states Herbs 2000. Horsetail extract will also heal dislocated joints and pulled hamstrings and reduce osteoporosis. Growth and stability of the skeletal system are promoted by using horsetail extract. The German government agency, Commission E, regulates the use of horsetail extract as a diuretic for water retention and to treat urinary tract problems including gravel, according to Flora Health. It is also used externally to treat wounds and prevent infections.
Function of
Horsetail Extract
1.Horsetail extract Silica acid has a good action on diuresis.
2.Horsetail extract can be used in relieving the pain caused by liver disease.
3.Horsetail extract can be a treatment of vomiting blood, cough, asthma and gonorrhea.
4.Horsetail extract is also used to stop the bleeding of wounds and promote rapid healing.
5.Horsetail extract is a folk remedy for kidney and bladder troubles, arthritis, bleeding ulcers, and tuberculosis.
Application of

Horsetail Extract
1.Used in food supplement.
2.It has particular diuretic activity and hemostatic action;
3.It has the function of treating diabetes and Chronic bronchitis
4.Horsetail herb powder can be used as feed addtive
5.Horsetail powder can be used in heath product area
6.Can prevent osteoporosis, Helpful to Arthritis and atherosclerosis.
7.Stop the bleeding of wounds and promote rapid healing