CATEGORIES
LATEST NEWS
CONTACT US
ADD: No.235,Huanchengdong Road,Huzhou,Zhejiang,China
TEL: 0086-572-2157374
FAX: 0086-572-2146389
E-mail: sales@plantextractpowder.com

> Ratio Extract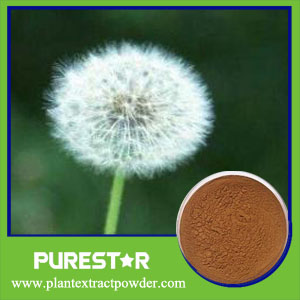 Dandelion Extract,Flavonoids
Appearance:fine brown powder
Active Ingredients: Flavonoids
CAS NO.: 68990-74-9
Specification: 4% Flavonoids, 10:1
Product description: Huzhou Purestar Biochem Co.,Ltd is provide the reliable quality Dandelion Extract with ISO,KOSHER,HALAL.
PRODUCT INTRODUCTION
Dandelion Extract
Product name: Dandelion root extract/ Taraxacum offcinale Wigg.
Specification: 4% Flavonoids, 10:1
Latin Name: Taraxacum offcinale Wigg.
Appearence: Brown fine powder
Active Ingredients: Flavonoids
CAS NO.: 68990-74-9
Description of Dandelion Extract
The dandelion covers any type of grounds with bright yellow sunny flowers that turn into fluffy puff balls
when seeding. The dandelion leaves grow up to 12 inches from a rosette with round yellow flowers.
The dandelion flowers are open during the day, closed at night. The dandelion seed heads contain
up to 200 seeds on fluffy tufts. The stems ooze a sticky milky substance when picked.
The dandelion root extract has been used for medicinal purposes since the 10th century. It shows proven
value as a diuretic, flushing excess water from the body. It also promotes the flow of bile and stimulates
the appetite. Dandelion juice once enjoyed considerable popularity as a diuretic, laxative, and remedy
for rheumatism.
Function of Dandelion Extract
Dandelion extract is used to treat liver and gallbladder obstructions, improve liver function, promote bile production and as a diuretic.
1.Correcting Liver Function:
Dandelion root extract is used in inflammation and congestion of liver.
Dandelion root extract is also used in the early stages of liver cirrhosis such as alcoholic cirrhosis.
Dandelion root extract stimulates bile production, and helps the body get rid of excess water produced by the diseased liver.
Dandelion root extract successfully treats hepatitis, liver swelling, jaundice and indigestion in those with inadequate bile secretion.
2.Cholagogue Function:
Dandelion root extract, flavonoids can double the flow of bile. This is critical in the process of toxin elimination, because bile flow is a natural secretion essential to transporting toxins from the liver to the intestines, where they are shuttled out of the body. dandelion extract can restore biliary function. Its cholagogue effect is useful for liver and gall bladder inflammation , eliminate gallstones and congestion, as well as jaundiced states.
3.Diuretic Function:
Extract of dandelion leaves is a powerful diuretic. Unlike many conventional diuretics, dandelion leaves do not leach potassium from the body. In fact, the leaves of dandelion extract are so rich in this mineral that they function as a potassium supplement. This diuretic action is responsible for the dandelion's use as a treatment for high blood pressure.
Application of Dandelion Extract
1.Dandelion root extract is a general stimulant to the system, but especially to the urinary organs, and is
chiefly used in kidney and liver disorders.
2. In folk medicine, Dandelion root extract is also used as a remedy for hemorrhoids, gout, rheumatism,
eczema, other skin conditions, and diabetes. Its effectiveness for these problems has not, however,
been verified.
3. In Asian medicine--again without verification--Dandelion root extract is used to treat chronic ulcers,
stiff joints, and tuberculosis.
4. It is also used to induce milk production in nursing mothers and to soothe inflamed breast tissue.