CATEGORIES
LATEST NEWS
CONTACT US
ADD: No.235,Huanchengdong Road,Huzhou,Zhejiang,China
TEL: 0086-572-2157374
FAX: 0086-572-2146389
E-mail: sales@plantextractpowder.com

> Standard Plant Extract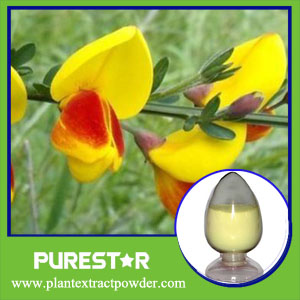 Cytisine
Appearance :White to light yellow powder
CAS: 485-35-8
Purity:98% HPLC
Useage:smoking cessation medicine
Product description: Huzhou Purestar Biochem Co.,Ltd is provide the reliable quality Cytisine with ISO,KOSHER,HALAL,GMP.
PRODUCT INTRODUCTION
Cytisine
English name: Cytisine
Chinese alias:wild indigo alkali roxian ketone alkaloid
Molecular formula: C11H14N2O
Molecular quality: 190.24
CAS: 485-35-8.
Product content: 98% HPLC
Product traits: oblique prism yellow-white powder
Product melting point: 152-156 ℃
Description of
Cytisine
Cytisine is a toxic pyridine-like alkaloid. Pharmacologically it exhibits similar effects to nicotine due to st ructural similarity of the two molecules.
Sources:Plants that contain the alkaloid in various concentrations include those from several genera of the Faboideae subfamily, including Laburnum, Anagyris, Thermopsis, Cytisus, Genista and Sophora. Also present in Gymnocladus of the Caesalpinioideae subfamily.
Cytisine is light-yellow to white powder.Cytisine is extracted from aerial parts of the alpine Huang,wild aerial parts of Cassia,alternate wild Cassia,lobular wild Cassia,wisteria seeds,legume gorse.Cytisine is active in breathing excitatory effects,supercharging effect on the cerebral circulation.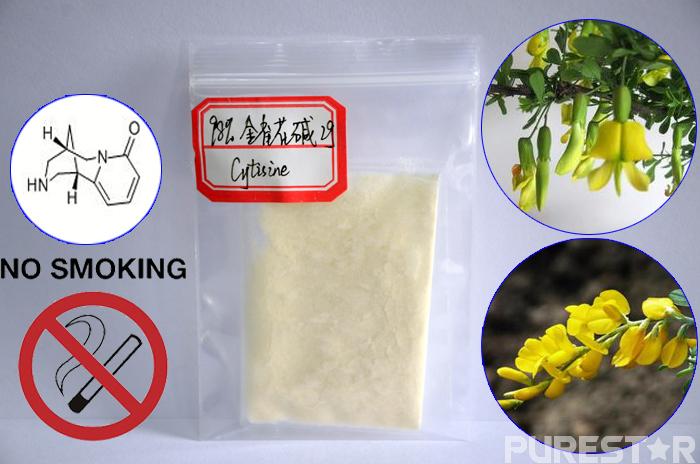 Function of Cytisine
1. Reducing and eliminating the smokers dependence on to achieve the purpose of smoking cessation.
2. With a respiratory stimulant and booster effects on the cerebral circulation.
3. With the function of pharmacological, such as anti-microbial, anti- infection, elevated white blood cell.
4. Has strong anti-cancer activity.
5. With significant regulating activity on plant growth.
6. With the function of expectorant and antitussive.
Application of Cytisine
1. As raw material of health products for smoking cessation medicine and cough medicine, it is widely used in health industry.
2. As emergency medicine for treating respiratory failure, it is widely used in pharmaceutical field.