CATEGORIES
LATEST NEWS
CONTACT US
ADD: No.235,Huanchengdong Road,Huzhou,Zhejiang,China
TEL: 0086-572-2157374
FAX: 0086-572-2146389
E-mail: sales@plantextractpowder.com

> Standard Plant Extract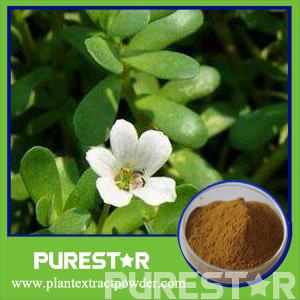 Bacopa Monnieri Extract
Appearance:Brown powder
Active ingredient: bacoside
Purity: 20%~50%
Function: Improve memory and learning problems
Product description: Huzhou Purestar Biochem Co.,Ltd is provide the reliable quality Bacopa Monnieri Extract with ISO,KOSHER,HALAL,GMP.
PRODUCT INTRODUCTION
Bacopa Monnieri Extract
Product name: Bacopa Monnieri Extract
Source: Bacopa monnieri(L.) Wettst
Purity: 20%~50%
Active ingredient: Bacoside
Appearance: Yellow Brown powder
Mesh Size: 100% pass 80 mesh
Test Method: HPLC
CAS NO.: 94443-88-6
Molecular Weight: 899.07
Molecular Formula: C46H74O17
Extract Method: Grain Alcohol & Water
Description of Bacopa Monnieri Extract
Bacopa monnieri (waterhyssop, brahmi, thyme-leafed gratiola, water hyssop, herb of grace,Indian pennywort) is a perennial, creeping herb native to the wetlands of southern India, Australia, Europe, Africa, Asia, and North and South America. Bacopa has traditionally been employed as a neurological tonic and cognitive enhancer, and it is currently being studied for its possible neuroprotective properties.
The leaves of this plant are succulent, oblong and 4–6 millimeters thick. Leaves are oblanceolate and are arranged oppositely on the stem. The flowers are small and white, with four or five petals. Its ability to grow in water makes it a popularaquarium plant. It can even grow in slightly brackish conditions. Propagation is often achieved through cuttings.
Function of Bacopa Monnieri Extract
1. Improves intellect, consciousness, and mental acuity
2. Calms the mind and promotes relaxation - Increases protein synthesis and activity in brain cells
3. Improves memory, mental clarity and longevity
4. Decreases anxiety, restlessness, and senility
5. Most commonly used to improve mental alertness, and enhance learning and academic performance
Application of Bacopa Monnieri Extract
1. Bacopa Moniera Extract is a traditional treatment for epilepsy and asthma. Bacopa Monnieri Extract has antioxidant properties, reducing oxidation of fats in the bloodstream.
2. In reaching, bacosides A enhance antioxidant defenses, increasing superoxide dismutase (SOD), catalase (CAT) and glutathione peroxidase (GPX) activity.